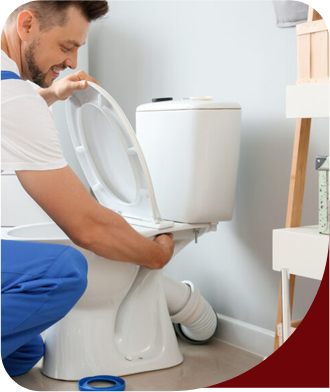 Toilet Repair & Replacement Services in
Forth Worth
Toilets are undoubtedly one of the most important and most used plumbing fixtures in any house. But unfortunately, they're also one of the more overlooked fixtures. Most homeowners don't give any thought to routine toilet maintenance until they're faced with a frustrating repair. Commodes are essential and if they're not in proper working condition, it can throw your whole day into disarray. Some of the most commonly faced toilet repair problems are clogged toilets, as well as blockages and stoppages. There comes a time when the toilet plunger is no longer doing the job.
Whether you're facing difficulty flushing the toilet, or it's making loud sounds, frequently getting clogged up, experiencing water leaks, or the water is running constantly, then you have a toilet repair on your hands. It's advisable not to deal with it on your own as a minor, seemingly insignificant problem can snowball into a bigger, costlier one. Call Pro Serve Plumbing at the first sign of anything amiss with your plumbing system and we'll be there right away!
Key Benefits of Our Services
Whether you have a clogged toilet or a sewer line in dire need of repair, call us! Our expert plumbers have all the necessary training and experience to take care of any job, no matter how small or serious. Our emergency plumbing services are one of the best in the area.
Got a plumbing problem? We're more than happy to provide help! Give us a call and our expert plumbers will come right over. Depending on the extent of the problem, we'll provide you with an on-site estimate.
In need of emergency plumbing services? Call our 24/7 emergency hotline
EFFICIENT, QUICK AND AFFORDABLE PLUMBING SERVICEST
Reach Out To Us For Your Needs
Our customers are our top priority, and we are available to help you 24/7 across our service region. You can contact us through the form below or reach out to us for emergency plumbing services by calling our team.