Affordable Gas Line Repair
We rely on natural gas for a number of activities throughout the day. Gas is used to power up furnaces, water heaters, dryers, and much more essential appliances. You probably even use gas to fire up your outdoor grill. So when it stops working all of a sudden, you must immediately get it checked.
An undetected gas leak can wreak havoc on your home and your health. Fortunately, gas lines usually have odorants like sulfur to help you easily detect a gas leak. So, if you smell "rotten eggs" near your gas line, it probably needs a repair.
Gas line repairs and installations are a dangerous job and should not be handled by just anyone. You need a professional expert to help take care of the job in a safe manner.
If you think you have a leak on your hands, our gas line repair specialists will conduct leak detection tests, line pressure checks and repair your gas lines in Fort Worth, Texas.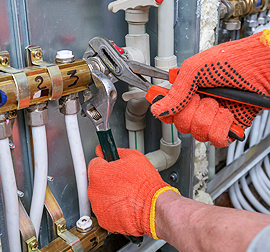 >div class="col-md-9″>
Key Benefits of Our Services
If you're in need of a gas line repair or any other plumbing services, our expert technicians have all the necessary training and experience to take care of any job, no matter how small or serious. Our emergency plumbing services are one of the best in the area.
Locally Owned & Operated
Excellent Workmanship Guaranteed
Bonded & Insured Services
Courteous Customer Service
Flat Rate, Upfront Estimate
Licensed Plumbing Professionals
Get Your Free Estimate Today!
Got a plumbing problem? We're more than happy to provide help! Give us a call and our expert plumbers will come right over. Depending on the extent of the problem, we'll provide you with a FREE, onsite estimate.