4 Plumbing Fails That Make You Wish You Had Called a Plumber
The most common misconception most homeowners have is that calling in a professional plumbing service will cost you a fortune. You then proceed to reverse the damage yourself with the help of the internet and some guesswork.
DIY plumbing is never the answer. There are only a few circumstances when it's alright, but for the most part, you're just adding to the chances of a full-blown breakdown of the system.
Here are some plumbing fails that will make you call a plumber after all:
Over-tightening pipe and tube connections
Over-tightening any connection of your home's pipe network is a common mistake made by homeowners. The tighter the connection, the more secure we think it will be. However, if you crank it too hard, you run the risk of cracking the fitting. You may not hear or see the crack right away, but over a few weeks, it's bound to crack and flood your home.
Over-tightening of faucet supply tubes is even more common. Just because you can tighten a pipe joint further, doesn't make it better. Plastic fittings and tubes are more prone to breakage since they aren't built for that much torque.
Liquid drain cleaners for clogs
Pipe and drain clogs are a common plumbing problem that arises for a number of reasons. Shower drains tend to get clogged with hair, skincare, and hair care, while toilets get clogged because of wipes, and diapers being flushed down. Since the cause of drain clogs is different for the kitchen and bathrooms, liquid drain cleaners won't always work.
Liquid drain cleaners, in fact, cause more damage. There are three main kinds of drain cleaners available, caustic, oxidizing, and acidic drain cleaners. All three generate heat to dissolve a clog, as a result, causing PVC pipes to soften. Other DIY drain cleaning techniques include the use of household products, which might work as a short-term solution.
It's best to call in a professional so they can clean the drains out thoroughly; don't wait around for a costly repair to call them in!
Lack of spare parts
Homeowners won't be equipped with the tools and spare parts needed to solve a plumbing issue. Trying to make do with things you have at home will never give you the result of a professional plumbing job.
Mixing up wyes, elbows, and tees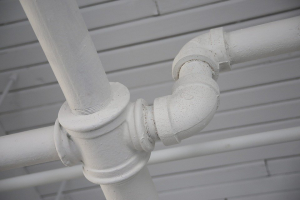 For the best drain repair, you need to know which drain fittings are required in each application. Failure to do so results in code violations and unpleasant odors in your home. Getting the wyes, tee, and elbow pipes wrong affects the way water flows through the pipes.
Save yourself all the additional cost by calling our service up ASAP! Pro Serve Plumbing not only provides emergency plumbing services, but we also have 15 years of experience to back up our claims. Contact us at 817-244-0614 for licensed plumbing repairs in Fort Worth, TX.